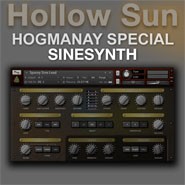 Hollow Sun has announced the release of SineSynth, a sound library for Native Instruments Kontakt.
It uses samples from a valve sinewave generator to create a variety of sounds from organs, sub-basses, leadlines and pads and more and the DETUNER control makes the sound thicker from mild detune to out-and-out discordant ring modulator sounds. There's also an ADSR envelope to shape the sound.

The CRUNCH buttons introduce all sorts of distortions and tonal modifications which can be used individually or in combination to add overtones and harmonics while the PLAYBACK controls allow you to play polyphonically or monophically and in the mono modes, glide can be added. And there's a vibrato oscillator with variable RATE. The VIA switches give plenty of options.

There's also an echo effect and a convolution reverb with spring, plate and acoustic hall impulses to round things off.

I'll be honest and admit that this is not the most versatile synth ever made but for pure and simple lead lines, solid basses, organ sounds and mellow pads, its simplicity (and silly price) takes some beating and it's a pokey little synth in its own unique way!
SineSynth features
44k.1Hz / 24-bit.
Valve sine wave generator.
Semi-additive synthesiser.
Sub basses.
Leadlines.
Delay and convolution reverb.
SineSynth for Kontakt is available to purchase for 1 Guinea (£1.05 GBP / 1.30 EUR /$1.60 USD) through January 2013.
More information: Hollow Sun