Homegrown Sounds has updated HG Pulse Control, a controller plugin for the Waldorf Pulse synthesizer.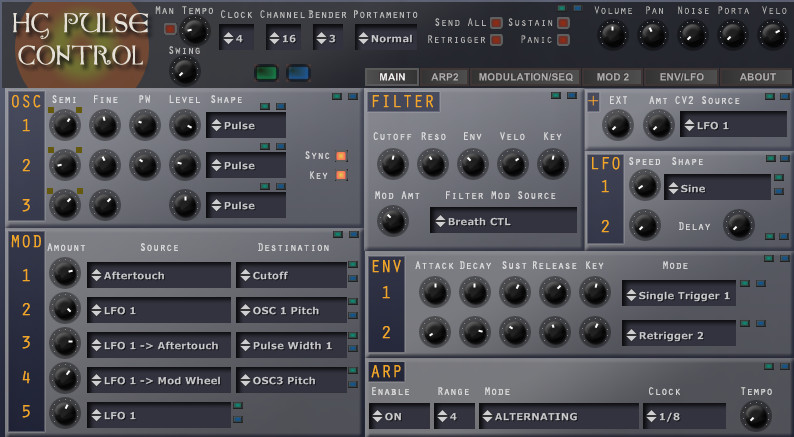 The most important change is the addition of 2 more Modulation Sequencers, and now they can have direct control over each Oscillators frequency. This change alone makes it possible to create sophisticated one finger style polyphonic sequences by being able to control each oscillator independently.

As well as this comes 2 more Gate Sequencers with direct triggers for Envelopes 3 and 4, and also adds the ability to trigger the volume of each oscillator independently. The sequencers can also be assigned via the modulation matrix along with all other Sources.
Changes in Pulse Control v1.1
Two new Modulation Sequencers – bringing the total to 3, each of them now have direct 2 octave sends to Oscillator Pitch so that each oscillator can have its own dedicated pitch sequencer. There is also a direct send to the filter.
Two new Gate Sequencers – bringing the total to 3, each of them now has direct retriggering for Envelopes 3 and 4.
Octave Up/Down Buttons added to the Semitune Knob for easily traversing octaves.
Midi Message Time Control added. For problematic midi ports, in the case of dropped messages the speed of the midi queue can be slowed down.
Send All is now triggered on a program change ensuring all parameters are updated.
Global Retrigger now affects the Mod and Gate Sequencers allowing polyphonic Retriggering of the sequences.
Bug Fix: The sequencers could be a note behind.
Swing control added for the master clock. Note that you must use 32 clock rate in the sequencers for it to be heard – slow down the tempo using the master clock rate.
Bug Fix: Pan added to Modulation Matrix 2.
Bug Fix: The Global Randomizer menu was not working as it should.
Expanded to 128 presets.
Pulse Control for Windows (VST) is available to purchase for $18.49 USD.
More information: Homegrown Sounds