Hora Music has released two new modules for the VCV Rack open source modular synthesizer.
Modulation offers a dual complex envelope generator and a delay (for trigger and gate signals) with looping, level control, comp out, and more.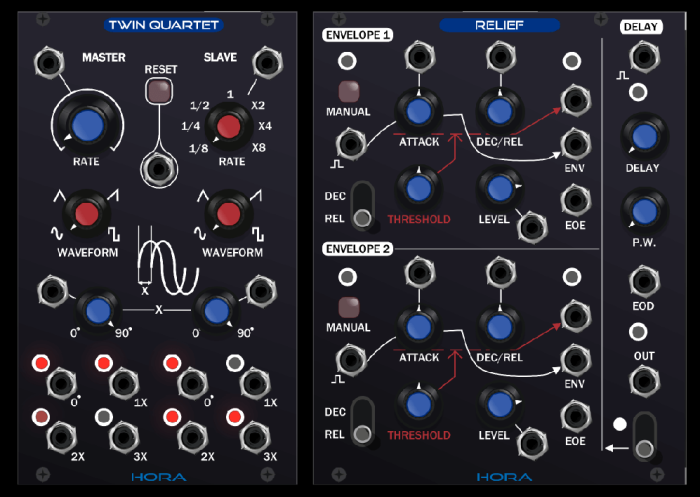 This plugins will contain all modulation sources. On V0.6, it contains twin quartet and relief, a dual quadratic LFO (free) and a complex envelope generator (commercial).

Twin quartet is pretty usefull for rotary effects, shepard tone, stereo effects,… The complex envelope can be used for bouncy effects, complex synth pacth triggering, delay (on trigger signals), level detector,…
VCO-VCA-VCF comprises Pure, Timbre and Amplitude modules.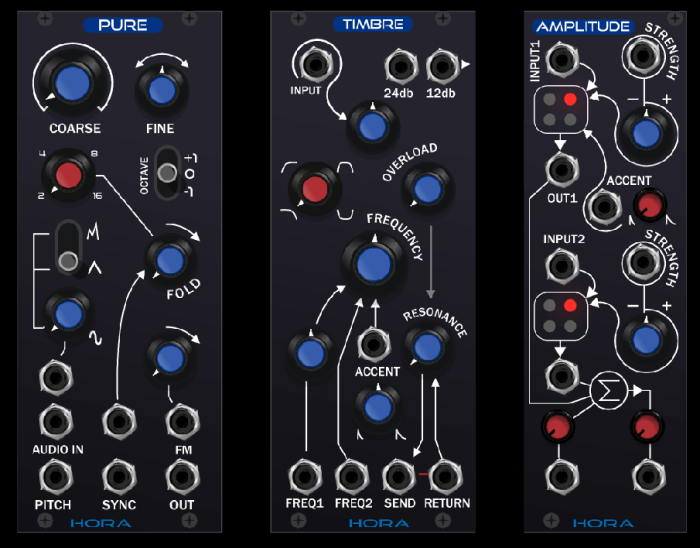 This plugin is made of three main modules wich generaly form the sound path of synthesizers: the VCO, the VCF and the VCA.

"Pure" (VCO), "timbre" (VCF) and "amplitude" (VCA, mixer, inverter, attennuator, VC polariser…) are the firsts modules of this plugin that will be fill with some others module.
The Modulation and VCO-VCA-VCF plugins are available for $18 USD and $24 USD, respectively. Free versions with limited features are available for download.
More information: Hora Music