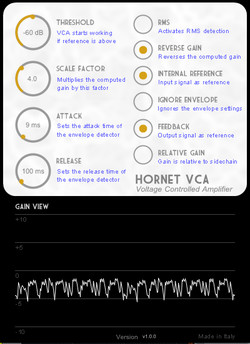 HoRNet Plug-Ins has announced the release of VCA, a new dynamics effect plug-in for Windows and Mac.
VCA offers a toolkit for controlling the track level, it can work as a simple Voltage Controlled Amplifier using a control signal in its sidechain input. Starting from there you can add functionality like an envelope follower on the control signal, with attack and release ranging from 10ms to 3000ms or an RMS module.

The VCA acts only if the control signal is above the set threshold that goes from -80dB to 0dB, above this threshold positive or negative gain, which can be scaled by a specific control, is applied.

You can also transform VCA in a complete compressor or expander using its input or its output as control signal for feedback or feedforward compression/expansion.
VCA features
Internal (input and output) and external reference.
Positive and negative gain adjustment with gain scaling.
Absolute or relative gain detection.
Optional envelope detector with times raging from 1ms to 3000ms.
Optional RMS detection.
Graphical gain adjustment display.
Mac OS X (>=10.5 intel only) and Windows support.
64bit compatibility both on Mac and Windows.
Audio Units VST2.4, VST3 and RTAS format.
The plug-in is available to purchase for 13.99 EUR.
More information: HoRNet Plug-Ins / VCA