HoRNet Plugins has announced the release of HoRNet Angle, a freeware tilt EQ effect plugin for Windows and Mac.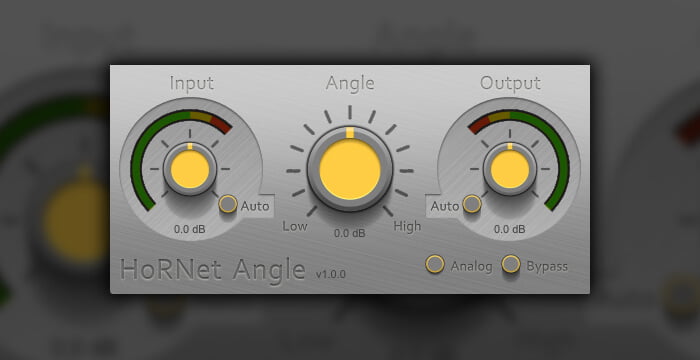 The tilt EQ is a special kind of equalizer designed to smoothly adjust the frequency balance of a track. HoRNet Angle also adds input and output gain with auto adjustment and analog emulation derived by the "OpAmp" model of AnalogStage.
A "tilt eq" does not provide frequency or Q control, it simply increases or decreases high and low frequencies around a fixed point, and in the case of HoRNet Angle is 650Hz, turning the "Angle" knob on the GUI towards right increases the right part of the spectrum (the high frequencies) while lowering the left part (low frequencies) of the same amount.

This simple action allow to perform very gentle tonal shaping that can help you get the correct frequency balance of your mix with very little effort.
HoRNet Angle features
Tilt EQ adjustable from -18dB to +18dB.
Input and output gain controls with auto-gain.
Input and output peak meters.
Analog emulation based on AnalogStage's OpAmp model.
Bypass button to exclude the plugin processing.
Mac OS X (>=10.7) and Windows support.
32 and 64-bit compatibility both on Mac and Windows.
Audio Units VST2.4, VST3 and AAX format.
HoRNet Angle is a free download presented as a Christmas gift via social share.
HoRNet Plugins is also offering a 60% discount on all its plugins until Wednesday December 27th, 2017.
More information: HoRNet Plugins / HoRNet Angle