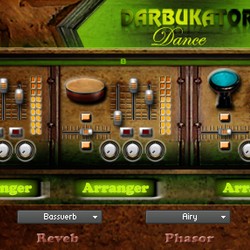 Human Touch Technology has released Darbukator Dance, a powerful and easy tool for creating ethnic percussion tracks.
Darbukator Dance is a real-time arranger for popular dance styles from the Middle East and North Africa. There are 4 instruments per style with separate controllers for each instrument.

There are 12 Popular Arabian dance styles. Free style, Maksoom (2 Styles), Sombaty, Adan, Rai (2 Styles), Libi, Fazani, Wahrani, Waltz, Zaffa.
Darbukator Dance features
24-bit samples.
Arranger based on live loops not single shots.
4 simultaneous instruments (Dohola, Doff, Darbuka, Riq).
User friendly interface with all functions.
Separate volume pan and filter controls for each section.
Reverb, Phaser, Flanger with separate sends for each instrument.
Arranger and loop playing modes (loop mode over laps the styles).
Bonus 24-bit Arabic Kit (Dohola, Doff, Darbuka, Riq).
Darbukator Dance for Kontakt costs $89 USD. Requires full retail version of Kontakt 5.0.3 or later.
More information: Human Touch Technology