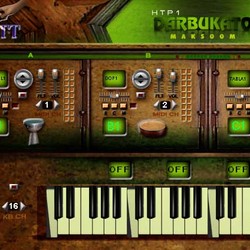 Human Touch Technology has released the Darbukator Series, a collection of VST instruments for ethnic sounds.
Darbukator Series features
HTP1 DARBUKATOR Maksoom, the most popular rhythm in the Middle East. It has wide variety of styles and HTP1 covers them all, plus other styles like Baladi and Sonbati. Sagat, hand claps and Riq included.
HTP2 DARBUKATOR Oriental Beats, free style playing with Darbukator engine. Features 11 popular north African styles. Mix and match styles gives endless possibilities.
HTP DARBUKATOR Lite (free), all the features of HTP series with 4 single instruments from 4 styles: Doholla – Jerk, Doff – Rumba, Darbuka – Nubian, Riq (Tambourine) – wedding.
HTT-SIKA Oriental Scale (free), 8 sampled instruments, easy and fast way to change scales with the ability to record scale changes and a simple effect processor included.
HTP1 DARBUKATOR Maksoom and HTP2 DARBUKATOR Oriental Beats are available as VST instruments for Windows PC for $150 USD each. The HTP DARBUKATOR Lite and HTT-SIKA Oriental Scale can be downloaded for free.
More information: Human Touch Technology