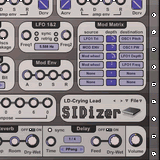 Hypersynth has released SIDizer, a virtual instrument plug-in emulation of the SID chip.
SIDizer is a state-of-art emulation of legendary SID chip in a form of a modern software synthesizer. Using circuit modeling technology nearly all unique features of two versions (6581-8580) of SID chip among their famous flaws are accurately modeled.

This emulation focuses on simulating nonlinear character of SID filter and mimicking special 6581 distortion that mainly influence the alternation of filtered signal in a real SID chip. It offers additional envelopes, LFOs , mod matrix and a routable bit-cruncher for adding extra lo-fi sound quality. SIDizer GUI is inspired from HyperSID that offers easy tweaking for all parameters on a single page. It is not only a powerful instrument for creating chip-tune style but it can produce a unique type of analog sound colored with harmonic distortion that is suited for creating bass, lead and drum sounds.
SIDizer features
3 oscillators offering 8 waveforms: Saw, Triangle, Square, Pitched noise, "AND" combinations of them.
Oscillators special features: ring, sync, phase sync, Sqr PW, level.
Selectable 6581-8580 D/A distortion.
3 Amp envelopes ADSR.
12 dB (LP & HP), 6 dB BP SID modeled Filter.
Best matched Exponential-fitted curves for 6581-8580 filter frequencies.
Simulating 6581 half wave filter distortion.
1 Filter envelope + key track for filter freq.
2 LFOs each with 4 simultaneous outputs offering sync and retriggering option.
1 Mod envelope.
Versatile Modulation matrix.
Bug-generator module for reproducing famous bugs: oscillator leakage, ex-input noise.
Bit Cruncher with pre and post filter route option.
Advanced 8 step C64 like arpeggiator.
Master: Pitch and Mod wheel, Porta, Spread, Reverb, Delay.
Easy to use GUI.
Factory soundbank created by Torben Hansen (aka Metal of Vibrants).
SIDizer is available to purchase as a VST instrument plug-in for Windows, priced at an introductory price of $49 USD for the first 64 customers (regular price $64 USD).
More information: Hypersynth / SIDizer