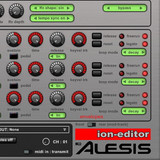 HyperSynth has released version 1.3 of ION-editor, a MIDI-editor for the Alesis ION and Micron analog modeling synthesizers.
Ion-editor is a MIDI-editor for advanced controlling over the famous Alesis ION and Micron analog modeling synthesizers in your DAW. The same screens like the original ion LCD display make the tweaking easy for parameters that need more descriptive information like filter panning, arpeggio, mod matrix and tracking generator.
Changes in ION-editor v1.3
Added a warning message which blocks requesting patch from bank0/program0 in micron-mode.
Fixed FM level accuracy problem.
Fixed "OSC 1,2,3 Fine tune" accuracy problem.
Fixed FM level issue that overwrited micron with wrong value after updating edit buffer.
Fixed "FX1 vocoder decay" range issue.
Fixed "FX2 reverb color" range issue.
Fixed "FX2 delay time synced" that could not be updated via sysex.
Fixed problem which caused FX1 and FX2 knobs to be disappeared.
Fixed FX1 "LFO shape" and "Tempo sync" malfunctions after request patch.
Fixed Filter 2 freq knob sensitivity issue which responded to mouse movement quickly.
MIDI in mode (transmit-block) is no longer saved in preset.
ION-editor is available as a VST plug-in for Windows PC for $30 USD.
More information: HyperSynth / ION-editor