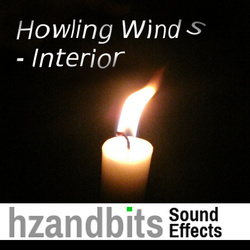 Hzandbits Sound Effects has announced the release of Howling Winds – Interior, a collection of 42 recordings of howling, moaning and whistling sounds of wind and rain, from an interior perspective.
It is a collection of highly expressive, sometimes vocal, sometimes violent gusts of wind, squalls of rain and sleet – as heard from within the safety of a home.

These recordings of howling, whistling, moaning winds are somewhere in between ambiances and specifics. All are recorded stereo, but some are narrow perspectives of particularly vocal details; while others paint a slightly bigger picture. Some contain low-end movement which I opted not to edit out – in case it might be useful to someone.
Others were recorded at rather low gain, to allow for the maximum dynamic range of sudden blasts of wind. For this reason, some files have a slight amount of hiss – but the evocative wheezes and guttural moans are worth it, in my opinion.
Howling Winds – Interior is available for purchase for $26 USD.
More information: Hzandbits / Howling Winds – Interior