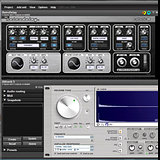 ifoundasound has released version 3 alpha of LiveProfessor – The Sound Processor, a Windows program designed to be a effect rack of VST-plugins.
Changes in LiveProfessor alpha 3
New features

Custom workspaces, save and recall window layouts.
Chain MIDI from one unit to the other. Plugins that have MIDI out can now be routed to other plug-in's input.
Clone units, automatically adds a new unit and loads the settings of the cloned unit.
Load banks and programs from files ( .fxb, .fxp).
Custom shortcuts, add or change keyboard shortcuts.
MIDI panic function (can be assigned a keyboard shortcut from the shortcut manager).
Right clicking on the navigator now brings up a menu to add, remove or clone a unit.
Hold down ALT and Scroll to Zoom out the window, makes it easier to rearrange windows.

Fixes

Tuner plug-ins not showing right (problem with plugin time info).
Shared MIDI input dies on removing a unit.
Bugs in routing window that made connections "stick".
A lot of smaller bug fixes.
Visit ifoundasound for more information.