IK Multimedia has announced a group buy for its new British Studio Series, Vintage Compressors Bundle, and Multiband Series of T-RackS collection.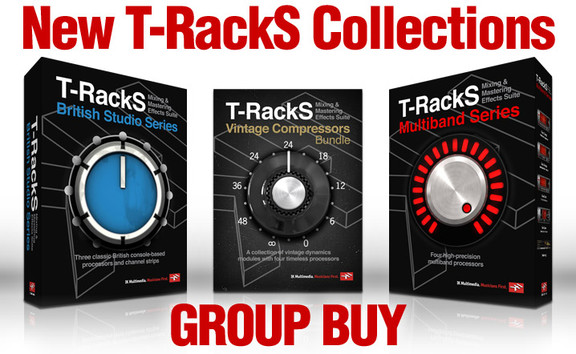 We are proud to introduce three T-RackS processor collections that are available both in the IK Store and Custom Shop.

T-RackS British Studio Series – Three classic British console-based processors and channel strips.
T-RackS Vintage Compressors Bundle – A collection of vintage dynamics modules with four timeless processors.
T-RackS Multiband Series – Four high-precision multiband processors.

These brand new collections, each priced at $149.99 / €119.99, let you add the sound of some all-time famous consoles and hardware processors to your studio.

To celebrate the new collections we're pleased to announce our brand spanking new Group Buy program, and this time it's a huge auditory feast for your ears! Now you'll save big on these special bundles of T-RackS Processors.
To join the group buy simply purchase one of the eligible products and when the group buy reaches 250 participants, you will get one of the eligible products of your choice for free. The group buy ends November 8th, 2013.
More information: IK Multimedia