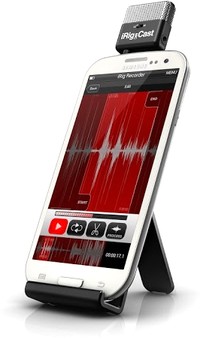 IK Multimedia has announced the release of the iRig Recorder, a powerful audio-recording app that turns any mobile Android device into a professional field recorder, and makes it easy to capture interviews, music performances, rehearsals, lectures, and more.
iRig Recorder for Android is a free app and provides Android phone and tablet users with recording, multiple effects, and sharing features. It's a powerful yet simple audio-capture app that can be expanded via in-app purchase to include waveform editing and additional effects processing.

Designed for ease of use and packed with real-world useful features, iRig Recorder is a simple yet powerful recording and audio-processing app that works with Android compatible IK accessories like the iRig MIC, iRig MIC Cast and iRig PRE as well as other compatible input devices.
iRig Recorder features
No set up required – just launch the app and hit record.
Auto record feature – the recording immediately starts as soon as the app is launched to catch the moment.
No recording time limit – the recording time is determined by the available space on your device.
Recordings are automatically grouped by recording date and tagged with geo location info for quick locating.
Extremely easy to use – simple editing lets you cut and crop your recordings.
Non-destructive editing – the original recording file is always kept as a backup.
Export your files in OGG compressed format and WAV uncompressed format.
Files can be sent via E-Mail, FTP upload, Bluetooth, copying from the phone via USB cables or from SD card or shared and stored via apps installed on the device.
High-quality audio processors automatically optimize levels and tone.
iRig Recorder is available now on the Google Play Store app for free. Editing, and additional effects processing can be added via in-app purchase for $4.99 USD / 4.49 EUR.
More information: IK Multimedia