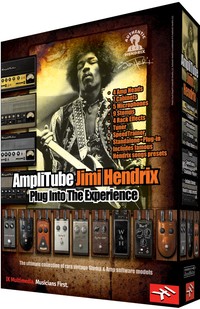 IK Multimedia has announced the release of AmpliTube Jimi Hendrix Anniversary Collection, an expanded and updated version of its renowned AmpliTube Jimi Hendrix software for Mac and PC, featuring new officially licensed, ultra-accurate models of genuine Hendrix gear.
There are 4 amps, 7 cabinets, 5 microphones, 10 stomp and 4 rack effects, with 3 new amp models and a classic tape echo, that's a grand total of 34 pieces of must-have vintage guitar and bass equipment, all of which have helped define the history of rock and modern music.

Named to commemorate the recent 70th anniversary of Jimi Hendrix's birthday, the new collection can be used a DAW plug-in or a standalone application featuring a built-in 4-track recorder and speedtrainer. In addition to being released in the collection, all the Hendrix models are now available for à la carte purchase from the Custom Shop.
New gear in Jimi Hendrix Anniversary Collection
SilverTwelve – model is based on the Silvertone® Twin Twelve 1484.
JH Gold – model based on a Marshall® JTM 45.
JH 1200 – model based on the Sunn® 1200.
EP Tape Echo – model based on the Maestro® Echoplex.
The AmpliTube Hendrix Anniversary Collection costs $99.99 USD / 79.99 EUR. Previous users of AmpliTube Jimi Hendrix and AmpliTube 3 will be eligible for $39.99 USD / 29.99 EUR for a limited time. Prices excl. tax. The new models will also be available individually inside AmpliTube Custom Shop with a price ranging from 20 to 30 Gear Credits.
More information: IK Multimedia