IK Multimedia has released StompIO upgrade, a reduced price, hardware-only version of StompIO.
With the StompIO upgrade these users will be able to immediately control their "Powered by AmpliTube" software live and in the studio thanks to the included AmpliTube X-GEAR.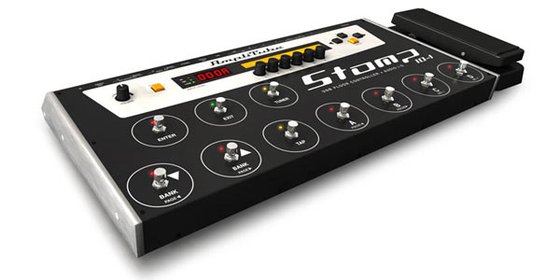 Additionally, for a limited time only, by purchasing the StompIO upgrade customers will also receive a free downloadable version of AmpliTube Metal (worth $269.99/€199.99) the just released new AmpliTube metal and distortion powerhouse.
StompIO is available for $799.99 / €599.99 to all registered users of at least one of the following products:
AmpliTube 2
AmpliTube 2 Live
Ampeg® SVX
AmpliTube Jimi Hendrix™
AmpliTube Metal
Together with the launch of the StompIO upgrade, IK has also upgraded the bundle of software for the full version of StompIO, which now includes all five "Powered by AmpliTube" products right out of the box.
The enhanced software bundle includes AmpliTube Metal (previously available only for AmpliTube 2 users), AmpliTube 2, Ampeg SVX, AmpliTube Jimi Hendrix and AmpliTube X-GEAR, for a total value of over $1,400 / €1,000 of included software, for only €799.99 / $1,049.99 (exc. taxes).
Visit IK Multimedia for more information.