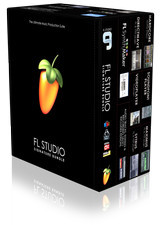 Image-Line has released version 9.8 beta of FL Studio, a music production software for Windows.
The changes are mainly bug-fixes and a few new features like Score PDF output from the Piano roll.
Changes in FL Studio 9.8 beta
Additions:

Alt key flips snapping instead of forcing it off.
New "Frozen LFO" option in envelopes.
"Multilink to controllers"'s popup now features single last tweaked parameter.
Score export to PDF file.

Bugfixes:

Fixed piano roll zoom bug.
Bugfix in Vocodex's sidechain selector.
DirectWave: fixed "random" rename of DW channel on reload.
Newtone: reset playback position when stopping playback in FL.
Newtone: fixed crash copying notes.
Newtone: fixed clicks/pops on audio export.
Newtone: made sample loading safer.
Newtone: changed note center behaviour.
Newtone: fixed display of bars when time signature changes.
Newtone: fixed midi timing issue.
Soundfont Player: disabled threaded processing.
Wrapper: fixed buffer crash in bridged effects.
Wrapper: fixed initial i/o assignment for bridged plugins.
Wrapper: avoid division by zero errors in bridge.
Wrapper: fixed crash on exit for bridged plugins in some circumstances.
Wrapper: fixed detection of 64bit dlls.
Wrapper: other changes and fixes for bridge.
The FL Studio 9.8 Beta is now available to registered FL Studio user. The new beta expires 28 February, 2011.
More information: Image-Line