Image-Line has released version 1.9 of Deckadance, a DJ mixing software application for Windows and Mac.
Control Deckadance using your mouse, keyboard, midi_controller, timecoded vinyl and or CD system. No other DJ software supports more control formats and is as committed to 3rd party controller support as Deckadance.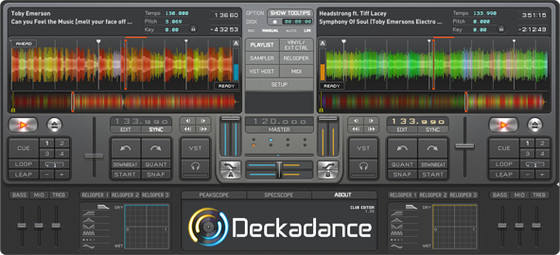 Changes in Deckadance v1.9
New synchronization engine – Songs are now totally locked in sync for whatever functions are performed within DD. Importantly, Deckadance can now be fully synchronized in other hosts such as Live including BPM & Phase.
Snap & Quantize buttons – The GUI also gains new 'Snap' and 'Quantize' buttons to make cue point setting and jumps to cue points, seeks in waveforms & exit looping perfect synchronized with the beat.
Loop settings – Improved to work per-beat rather than per-bar. This means faster, tighter repeats are now possible.
Song manager – The song manager (SM) is now fully integrated into Deckadance. You can detach the SM window, great for multi-monitor setups. The SM includes iTunes integration for drag-&-drop between SM and iTunes. Import playlists and more.
File Browser – A new File Browser replaces the old one. Designed for improved integration, searches and working with your files in Deckadance.
Options & Setup – All setup and options have been organised into a unified tabbed system. Spend less time searching and more time tweaking options.
Deckadance for Windows and Mac is available to purchase for $99 USD (House Edition) / $179 USD (Club Edition).
More information: Image-Line