Impact Soundworks has announced the release of Archtop: Hollowbody Electric Guitar, its latest virtual instrument for Native Instruments Kontakt, featuring an exhaustively sampled Jim Hall model archtop guitar by Sadowsky, outfitted with custom electronics and performed by Josh Workman.
Archtop is designed to suit a wide variety of musical genres, from jazz, blues, and funk, to R&B, pop, and rock; as it was recorded completely clean with two blendable pickups, the instrument can be used in virtually any context. A range of vital articulations are included, such as thumbed octaves, picked sustains, hammer-on and pull-off legato, portamento (glissando), tremolo, harmonics, and more.
"We were thrilled to collaborate with Josh to create this instrument," said Aversa, lead designer of the library. "Thanks to his extensive experience as a session player and performer, we were able to capture and include all the essential techniques and nuances that make the end result great."

"The goal for Archtop was for it to sound great out of the box with a very gentle learning curve. Keyswitches and MIDI CCs are not required, and any articulation can be toggled or remapped with just a few clicks. Adding effects or changing presets is a snap, and advanced users will find the engine settings to be quite detailed!" explained Aversa.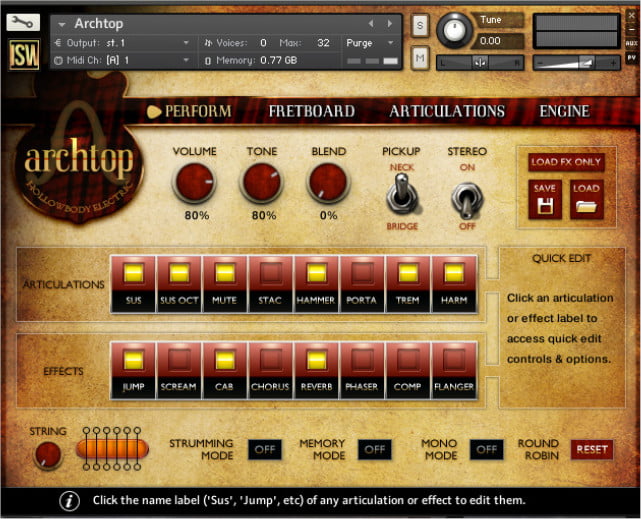 Archtop: Hollowbody Electric Guitar features
Extensive 24bit CLEAN recordings.
Sadowsky Jim Hall model archtop guitar.
Beautiful user interface with easy editing, presets, and FX pedals.
Custom blend between bridge and neck pickups.
Sustain, palm mutes, vibrato, tremolo.
Thumbed octaves, portamento (glissando).
Staccato notes, hammer-on, pull-off playing.
Harmonics – artificial & real – neck slides, pick FX and noises.
Wide range of release noises.
Every fret sampled on every string.
Adjustable mapping and playing style.
Archtop: Hollowbody Electric Guitar for Kontakt (Kontakt Player compatible) is available to purchase for the introductory price of $139 USD (regular $159 USD). Owners of the Shreddage 2 library can crossgrade for an intro price of $119 USD. This deal expires January 15, 2014.
More information: Impact Soundworks / Archtop: Hollowbody Electric Guitar