Impact Soundworks has announced the release of Ventus Ethnic Winds: Ocarinas, the fifth entry into its series of deeply-sampled solo wind instruments from around the world.
This library includes three totally unique instruments: a low Pendant ocarina from Costa Rica, a versatile triple ocarina with a wider range, and an ancient, breathy Chinese xun. Each has their own timbre and style.

These ocarinas are sampled in exquisite detail with multiple sustains, trills, ornamented attacks, true legato, vibrato, and release noises, along with our unified Ventus UI making it easy to get authentic performances.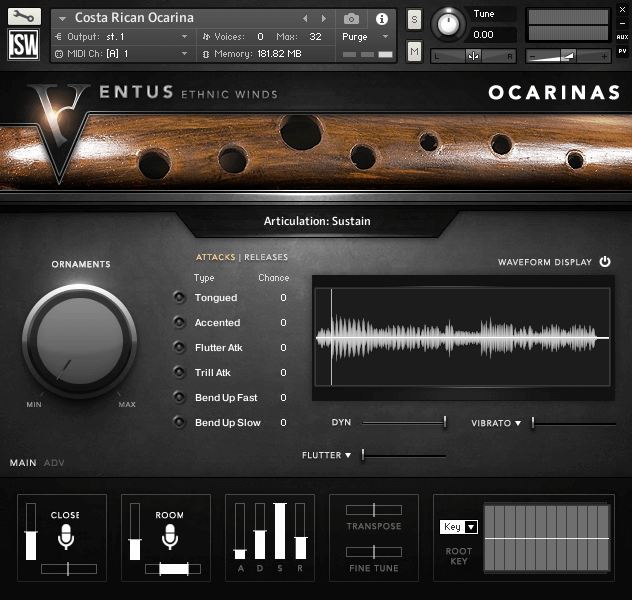 Ventus Ethnic Winds: Ocarinas features
Over 5,500 24-bit samples recorded through warm ribbon & room mics.
Three unique ocarinas.
Up to 12 articulations.
Bends, vibrato, extended techniques.
Over 890 phrases. multiple lengths & styles.
Phrases also provided as WAV.
Beautiful unified VENTUS interface.
Dozens of under-the-hood tweaking controls.
Ornament system for effortless authentic performances.
Phrase playback editor.
Easy FX rack with analog-modeled EQ, compressor, delay & reverb.
TACT – Total Articulation Control Technology for easy customization of all playing techniques.
Ventus Ethnic Winds: Ocarinas is available now for $99 USD. Owners of other Ventus instruments can crossgrade from their deals area. If you own all 4, the Ocarinas library is just $49 USD. Requires Kontakt 5.5.2 or higher, full version.
All Ventus instruments to date are now also available in the Ventus Series 1-5 Bundle, including the newly-released ocarinas, two pan flutes, an Indian bansuri, Japanese shakuhachi, and Irish tin whistle, all for $349 USD (MSRP $499 USD).
There's also still time to save 25% off almost every instrument and bundle in the Impact Soundworks catalog. The sale ends with Cyber Monday, November 27th.
More information: Impact Soundworks