Impact Soundworks has announced the release of Acoustic Revolutions 3, the definitive entry into its series of rhythmic acoustic guitar loops.
The sample library allows you to easily create entire backing tracks in virtually any key, chord, or tempo using a single instrument. It includes over 10 times the content of the previous two Acoustic Revolutions libraries combined.
The library features nearly 15,000 acoustic guitar rhythm samples covering 48 unique rhythms in multiple tempos, variations, time signatures, and 12 chord types total. Everything is carefully edited for looped playback.

Our new rhythm-based Kontakt engine allows you to perform patterns simply by playing the chord type you want; our Intelligent Detection does the rest. Seamlessly switch rhythms or chords mid-playback, all synced to host tempo. Or, mix and match custom keyswitches that fit your workflow.

Whether you're writing an entire rhythm track from scratch or adding acoustic guitar to an existing track, we think you'll find Acoustic Revolutions 3 extremely versatile and easy to use. And if you prefer not to use Kontakt, no problem: all the loops are available in WAV too.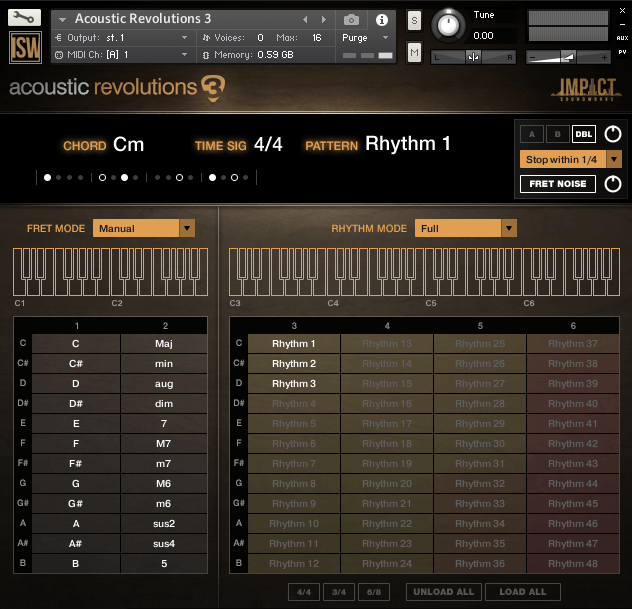 Acoustic Revolutions 3 features
Over 14,500 24-bit samples.
48 unique rhythm patterns.
2 RR variations, 2 tempos, 6 keys per rhythm.
Chord types: Maj, min, M6, m6, 5th+oct, dim, Sus2, sus4, aug, 7, m7, M7 (12 types total).
Fret noises, falls, stops, chokes + strum endings.
Intelligent chord detection.
Syncs to host tempo and playback.
Three fret/chord trigger modes.
A/B variations and double-tracking built in.
Seamlessly transition between chords + phrases.
Analog and digitally modeled FX rack.
Also provided as WAV.
Kontakt patches require FULL VERSION (not player) of Kontakt version 5.5.2 or higher.
Acoustic Revolutions 3 is available for $99 USD. Owners of previous versions of Acoustic Revolutions can crossgrade from the "Deals" area in their Impact Soundworks account.
More information: Impact Soundworks