In Session Audio has announced the release of the Riff Generation: Outside In Edition, a Kontakt Player library that creates song parts by combining acoustic, electric and synthetic sounds with effects.
Riff Generation: Outside In Edition features all new sampled material.
Based around a set of musical parameters that you control, Riff Generation: Outside In Edition creates exciting, complex and surprising combinations of melody, rhythm and sound design with the press of a button.

With an engine powered by Native Instruments' Kontakt Player platform, every riff adapts to your track's tempo, key, scale and currently played note. Combine acoustic and electric instruments with hardware synth sounds all in the same riff.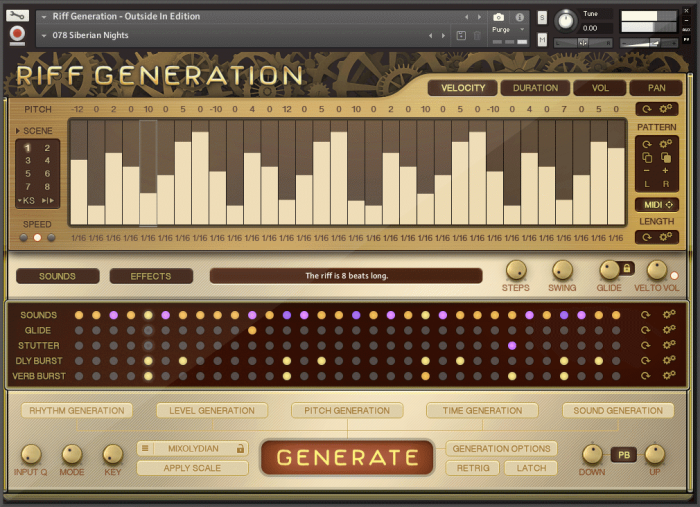 Riff Generation: Outside In Edition features
All the sounds originate from outside of a computer with 74 of the 234 samples sets being acoustic and electric instruments, including vibraphones, xylophones, tongue drums, acoustic and electric guitars, pedal steel, bass, hammered dulcimer, cello, chimes, bells, music boxes, pianos and a variety of other interesting instruments.
The remaining 160 sample sets originate wholly from hardware synths and effects, with no overlap of material between either version of Riff Generation.
Combine a cello, a warm analog synth, a nylon-stringed guitar, a glassy FM synth and a delayed palm-muted electric into the same riff – easily.
Heavy-duty sound design through the generative process, creating riffs that can glide, stutter, burst through effects and change sound on a step-by-step basis.
Riffs adapt to tempo, key, scale and currently played note. MIDI files for any riff can be exported directly from the interface via drag-and-drop. Or send MIDI out in real time to other virtual instruments.
A musical range of options allow the generative process to be directed by the user.
Song starters, ambient melodies, basslines, noisy leads, pluck-laden pulses and generation templates spread over 225+ patches.
Riff Generation: Outside In Edition is on sale for the intro price of $99.99 USD until August 11th, 2019 (regular $249.99 USD). A Combo Package including both Riff Generation libraries is on sale for $199.98 USD during the promotion (regular $499.98 USD).
More information: In Session Audio