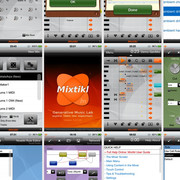 Intermorphic has released Mixtikl 3, a generative music application for the desktop and iOS.
Mixtikl is an app that lets you uniquely combine, tweak, perform & play up to 12 tracks of any combination of top quality generative music & audio or MIDI loops together with live FX.
Changes in Mixtikl 3
Inline "live" synth editing allowing total customisation of Partikl synth sounds and FX.
Inline "live" Noatikl scale and harmony rule customisation at content cell and global mix level.
Includes 4 new unlocked Tiklpaks and 4 earlier purchasable Tiklpaks (meaning over 380 parts are now included).
Content cell root and pitch offset controls as well as content cell FX.
Control-rate LFO now includes tempo-sync option and random level bouncing option (cool with filters!).
Copying of zip paks into Mixtikl via App File Sharing now included.
Improved: Better looking, easier to use, much more responsive UI and simply better sounding.
Improved: Knob/slider control behaviour.
Improved: All mixes now saved to User_Content folder for easier synching with desktop (older mixes also moved there).
Improved: Increased mix/mic recordings limit to 1000 bars.
Improved: File format update means tweeted mixtikls can now include full synth & fx customisations.
Improved: Synth / fx network editor now has colour-coded units, connecting cables & context-sensitive gadgets.
Improved: Partikl file loaded into Mixtikl from e.g. clipboard, plays back automatically in Mixtikl mixer.
Fixed: Many, many general usability & performance improvements and bug fixes.
Mixtikl 3 is available to purchase for $4.99 USD (iPhone/iPad/iPod touch) / $24.95 USD (browser/VST/AU plugins).
More information: Intermorphic / Mixtikl