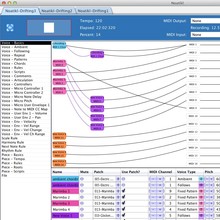 Intermorphic has updated its Noatikl Generative Music Lab to version 2.1.5, and the Mixtikl Generative Music Mixer to version 5.2.10.
Changes in Noatikl v2.1.5:
All versions: fixed issue where initial Patch change MIDI events were not always delivered at piece start (FYI, this was a bug raised in the forum).
All versions: online help links from the FX and Sound Generator units now working.
All Mac versions: MIDI File Recordings now saved to ~/Music/Noatikl/MIDI Recordings; this folder is now a fixed location on Mac (so on Mac, you no longer see the Change button in the Noatikl Preferences or MIDI Cooker dialogs). All Noatikl MIDI recordings files that are found in the old folder location (assuming you haven't customised it.), are moved automatically to the new folder when Noatikl first starts up.
Mac App Store version: added full-screen support.
Changes in Mixtikl v5.2.10
iOS: added-back support for 44kHz audio.
All: online help links from the FX and Sound Generator units now working.
Other bug fixes.
Intermorphic has also announced a limited time sale, offering a 25% discount on purchases made through November 30th, 2012.
If you spend more than $79 in our webstore, then you can get a 25% saving! If you are a Windows user you could for example get the Noatikl 2 Desktop Standalone and the Noatikl 2 Desktop Audio Plugin, or if you are a Mac user you could get the Desktop Audio Plugins for both Noatikl and Mixtikl. Simply select one of the Noatikl products (not Academic versions) as your main purchase and then in the order page make sure you add to your basket sufficient items to get to the total above (and then anything else you want to get the discount on, too!), press the next button and use the following coupon code in the Coupon Code field: "DISC25NOV12".
More information: Intermorphic