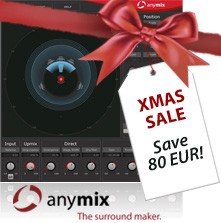 IOSONO has launched a Christmas Sale for its Anymix Pro surround mixing plug-in for Windows and Mac.
Anymix Pro is the ideal solution for an easy, yet precise creation of surround mixes. It comes with a broad selection of up- and downmix preferences and individual panning features tailored to be used in post-production, broadcast, music and game sound design.

Anymix Pro doesn't only redistribute audio material to a certain output configuration, but gives the mixer full control over important parameters, turning the mono or stereo mix into a realistic surround scenario. The included surround panning mode offers deep control of channel positioning within the surround field, including distant-dependant adjustment of loudness and timbre for a smooth workflow.
The Anymix Pro plug-in for Windows and Mac (VST/RTAS) is available to purchase for 219 EUR until December 31st, 2012 (regular 299 EUR).
More information: IOSONO / Anymix Pro