The Institute for Research and Coordination in Acoustics and Music (IRCAM) has announced the release of IRCAM Lab "TS" (Transpose/Stretching), a powerful stand alone application that revolutionises the way audio signal can be processed.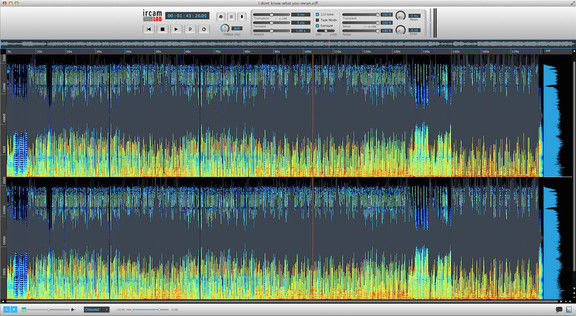 Unlike other time stretching applications, "TS" uses an advanced phase vocoder engine (SuperVP) as for the analysis/synthesis functionalities of "AudioSculpt". Phase vocoder technology provides high-quality sound processing in real-time and offers amazing results even when used to transpose or stretch audio waveforms radically. It is able to transpose and/or pitch a WAV or AIFF audio file with extremely accurate results and minimal artefacts making it possible to process professional recordings with transparent results. A life saver for audio engineers and broadcast technicians!

But "TS" is much more than a simple time shifting tool. the application can transform an audio signal at extreme settings making it a totally new sound ! Simply drag a WAV or AIFF file into "TS" and stretch it down by 100%. That will give you a quick idea of how powerful it is. Now use the formant, transient, sinus or noise sliders to sculpt your sound and create totally original audio textures. Sound designers, DJ's and musicians will be amazed by the unlimited possibilities offered by "TS" to create totally new sounds. From a basic drum loop to pianos, voices or any other audio signal, "TS" can make something totally wild and original out of it…

IRCAM Lab "TS" also includes real time Midi remote control and a live editing export feature. That enables users to export totally original sounds created in "TS" as easily as clicking the mouse. A DJ's dream come true!
IRCAM Lab TS features
Sound source Waveform visualisation.
Spectral information shown on screen.
Transposition in percentage and scale format.
Powerful Time Stretching.
A unique Shape Preservation mode for voice transformation.
Transient shaping.
Harmonic and Inharmonic signals Remix options.
Midi remote control option.
Real time recording directly into the application.
Offline bounce (WAV|AIFF, 16|24|32 bit).
IRCAM Lab TS is available from official distributor Plugivery for the introductory price of $99 USD until September 30th, 2014 (MSRP $249 USD). IRCAM Lab TS is currently only available for Mac OS X. Windows versions will be released shortly as a free upgrade to all users.
More information: IRCAM Lab TS