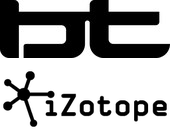 iZotope has announced it has acquired Sonik Architects, the music technology company founded by composer and audio production pioneer Brian Transeau (BT).
iZotope plans to release products designed by BT including Stutter Edit® and BreakTweaker(TM) and will take over development and licensing for the Sonifi(TM) collaborative music platform for mobile devices.

"BT's innovative production techniques have influenced a whole generation of music makers across every genre of music," says iZotope co-founder and CEO Mark Ethier. "iZotope is thrilled to collaborate with BT to launch new products born out of his need for performance and production tools that did not previously exist."
BT, whose studio album These Hopeful Machines (Nettwerk/Black Hole), was just nominated for a 2011 GRAMMY AWARD for "Best Electronic/Dance Album", sought out iZotope to help develop, release, and support the unique products he has been developing for years. Says BT:
"I love iZotope's willingness to push the boundaries of music and audio technology, and I have been using their tools for years. Collaborating with iZotope is a perfect fit. I'm excited to partner with them to bring revolutionary new tools to musicians everywhere."
iZotope will release long-awaited software products designed by BT, including Stutter Edit and BreakTweaker. Stutter Edit blurs the line between audio effect and instrument, letting studio musicians, live performers and laptop DJs improvise intricate "stutter" effects, dynamic build-ups and fills. Until now, these effects have only been possible with meticulous and time-consuming cutting and editing in the studio. BreakTweaker will give beat-makers new tools for synthesizing drum sounds and creating complex micro-rhythmic patterns–techniques that are not possible with conventional drum machines and music production software.
iZotope will also continue the development and licensing of Sonifi, an iPhone application that allows users to create, collaborate, effect and save remixes of a song in real time. iZotope will leverage its experience with the successful iDrum® line of iPhone and iPod touch apps to open up Sonifi to labels and high profile artists as a new collaborative fan experience. A version of Sonifi featuring BT's single "Desert Rose" is available on the Apple App Store.
More information: iZotope