Plugin Boutique has announced the iZotope Elements Flash Sale, an opportunity to purchase the Elements series plugins at a discount of up to 77% off the regular price.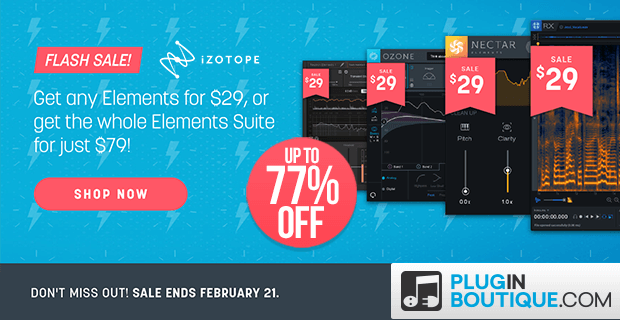 RX Elements is a budget-friendly noise reduction and audio repair tool for small home studios that need the basics. It includes a standalone audio editor with spectral editing as well as four essential, real-time noise reduction plug-ins to fix clipping, hums, clicks, and other unwanted background noise like amp hiss or air conditioner noise.
Give your vocals professional clarity and polish with Nectar Elements. Using the new Vocal Assistant, Nectar Elements analyzes and adapts to your vocal sound, taking the guesswork out of placing your vocal in the mix and letting you make your vocals stand out in just a few clicks.
Effortlessly get your mixes radio- and streaming-ready with Ozone Elements. With best-in-class processing from Ozone 8, this new mastering plug-in enables you to achieve a full, rich, and loud final master with new assistive audio technologies like Master Assistant and the legendary Ozone Maximizer.
Achieve unprecedented focus and clarity with the newest mixing plug-in from the iZotope Neutron family of plug-ins: Neutron Elements. Combining the latest innovations in analysis and metering with award-winning audio processing, Neutron Elements gives you the power of Neutron and is included in the Elements Suite.
The Elements series plugins are available for $29 USD each during the sale, or get the complete Elements Suite for only $79 USD this weekend only.
The offer expires February 19th, 2019.
More information: iZotope