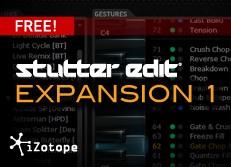 iZotope has released its Stutter Edit Expansion 1, a free collection of new presets for the Stutter Edit plugin for real-time sampling and audio chopping with a range of versatile color effects.
Expansion 1 breathes fresh life into your Stutter Edit possibilities with 11 new preset banks containing over 250 new gestures.

Introducing new preset bank categories like Glitch and Instruments, Expansion 1 comes fully loaded with gestures that can cut up your glitch tracks or re-invent your guitars, vocals, and synths.

Expansion 1 also extends existing categories like Time Warp and Space and Delay, adding swirling delays and serrated time-based effects to mangle up your mix or texture your tracks.
The expansion is a free download for Stutter Edit users.
More information: iZotope / Stutter Edit Expansion 1