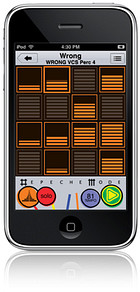 iZotope has announced the release of iDrum: Depeche Mode Sounds of the Universe, a new iPhone/iPod Touch app that lets you interact with, and instantly remix, elements from the legendary band's new album.
Take control and re-arrange rhythms, drums, effects and more from each song on Sounds of the Universe. Or use the raw drums, effects and instrument sounds to make your own musical creations. iDrum's simple interface lets you build beats layer by layer by tapping the touch screen. It doesn't matter if you've never made a beat before–with iDrum, you can create music with simple shapes and color combinations that let you visualize the rhythm. Experience Sounds of the Universe in a completely new way with iDrum!
iDrum: Depeche Mode Sounds of the Universe features
Use actual sounds from Depeche Mode's Sounds of the Universe to make music on your iPhone or iPod touch.
Includes 10 customizable kits that include elements from songs on the album.
Take control of the rhythm of every drum sound and sample.
Remix rhythmic patterns from the album or start from scratch to make your own creations.
Bring sounds in and out of the mix to change the music.
Tap the touch screen to play and record your own musical patterns.
Customize patterns to create your own unique beats.
iDrum: Depeche Mode Sounds of the Universe is available from the iTunes App Store for $4.99 USD.
Visit iZotope for more information and a video demo.