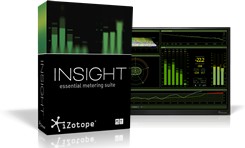 iZotope has announced the release of its Insight essential metering suite for post production and broadcast applications.
Insight provides a full suite of audio analysis and metering tools, perfect for visualizing changes made during the mixing process, troubleshooting problematic mixes, and ensuring compliance with broadcast loudness standards. Fully customizable and scalable, Insight allows audio engineers to visually monitor all relevant information from a mix in a convenient floating window, empowering users to look deeper into their audio with intelligent analysis tools and real-time monitoring capabilities.

Insight helps ensure adherence to current broadcast standards using the most advanced metering technology available today, with meters for immediate loudness calculation and True Peak detection, loudness calculation over time, and faster than real-time offline loudness calculation. Advanced visualization and spatialization displays further aid in detecting problems that the ears cannot perceive, like the innovative new Surround Scope and the 3D Spectrogram. Also included are convenient user presets, designed for an array of engineering applications, for quick and easy access to common metering and loudness configurations. Alternatively, users can define new presets with their own preferred customizations, giving Insight unmatched flexibility in the metering space. The perfect tool for post, broadcast, and music engineers, video editors, and sound designers, Insight allows users to keep an eye as well as an ear on the mix at all times.

"iZotope is excited to offer broadcast, post and audio engineers an elegant metering solution that can be custom fit to any workspace and workflow," says Brett Bunting, Insight Product Manager. "Unlike other metering products, Insight integrates a full collection of state-of-the-art meters into one customizable window, allowing you to easily monitor and visualize all aspects of your audio."
Insight features
Immediately detect potential mix problems through real-time visual monitoring and color-coded alerts.
Ensure audio is fully compliant with current loudness standards with forward-thinking tools that adhere to standards like BS.1770-1/2/3, then document adherence with an exportable log or graph.
Perform deep and flexible analysis with zoomable meters and the ability to route audio from any tracks or buses to Insight.
Design your ideal metering view by choosing the meters you want to see, customizing them, and resizing the Insight window to fit your current workflow.
Get an extensive suite of metering tools in a single plug-in, including True Peak Meters, Loudness Meters, Loudness History Graph, Stereo Vectorscope, Surround Scope, 2D/3D Spectrogram, and Spectrum Analyzer.
Insight is available for the introductory price of $399 USD through November 29, 2012 (Regular MSRP: $499 USD / €449 EUR) or for free to Ozone 5 Advanced Customers. Ozone 5 Standard customers can upgrade to Ozone 5 Advanced for $399 USD through November 29, 2012 and receive Insight for free. Customers who already own Ozone 5 Advanced will be notified via email with details to install Insight for free.