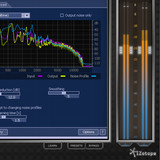 iZotope has announced the release of RX 2, a complete audio repair suite for Windows and Mac.
iZotope RX™ 2 is the most complete audio repair toolkit on the market, enabling you to remove noise, hiss, buzz and hum, eliminate clicks and crackle, restore clipped audio, visually select and suppress unwanted sounds, resynthesize missing audio and much more.

RX 2 Advanced extends the standard version of RX 2 with new, specialized tools designed for audio professionals.
New in RX 2
New Denoiser Algorithms

– New Global Smoothing control reduces the distracting, watery artifacts introduced by most denoiser algorithms and a high-frequency enhancement avoids the dullness commonly associated with noise suppression.

Improved Declick & New Decrackle

– Declick features improved click detection and new Decrackle algorithm designed to treat continuous background crackle from vinyl and older media.

Freehand Selection & Magic Wand

– New Lasso, Brush and Magic Wand tools allow natural, freehand selections of problem sounds. Additionally, the Magic Wand can automatically select a sound and its harmonics for incredibly fast editing.

Improved Batch Processing

– Updated batch processor streamlines your workflow by letting you chain multiple modules, process multiple files and use multiple CPUs.

Intelligent Hum Module

– Automatically identify the base frequency of hum for precise removal. The module will even recommend when the Denoiser should be used to more effectively treat certain kinds of hum.

Session Support

– Your edit history is automatically saved when you quit and reloaded when you restart. The entire state of the program including your selection is saved. This new feature also works in the event of a computer crash or power outage, so you can get back up and running immediately.

Channel and Phase Operations

– New Channel Ops module features left/right channel mixing and arbitrary phase rotation operations, both of which are crucial when restoring audio transferred from tape.

Pre-roll and Post-roll Support

– Customize the amount of audio played before and after an edit for context when previewing edits.

Fade Support

– The Gain module now includes support for fades with several fade types.

New in RX 2 Advanced

:

Adaptive mode in Denoiser to remove noise that changes over time.
Deconstruct, a new class of audio manipulation for control over noisy and tonal components of sound.
3rd party plug-in support enabling any processing on spectrogram selections and in Compare and Batch Processing features.
iZotope 64-bit SRC™ for sample rate conversion, MBIT+™ for dithering and iZotope Radius® for changing time and pitch.
Time-stamped log creation, essential for forensics and archival documentation.
Spectral Repair multi-resolution mode for more accurate separation of noise and desired content.
Automatic Azimuth alignment and precise sub-sample control of delay for tape restoration.
RX 2 is available to purchase for the introductory price of $249 USD (regular $349 USD) or $749 USD for RX 2 Advanced (regular $1199 USD) through October 31, 2010. RX customers can upgrade to RX 2 Advanced for $499 USD (also valid until October 31, 2010).