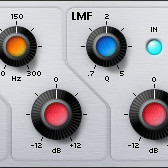 J1000 has updated its PQ33 freeware equalizer effect plug-in for Windows to version 1.1.
PQ33 is a freeware VST equalizer based on RND Portico 5033 hardware unit. It has the same number and layout of elements, same frequency ranges for all filters, same gain operational levels and Q factors. It is intended for use during mixing and tracking, but it can also be used for simple mastering tasks.
Changes in PQ33 v1.1
2 pass filters with 12dB/oct slope (2nd order) and natural-sounding Q factors (HP & LP).
Additional markings around knobs as a rough guidance for those who need it.
Removed internal filtration of DC component, since now plugin has dedicated HP filter.
The PQ33 is available to download as a freeware VST effect plug-in for Windows.
Visit J1000 for more information.