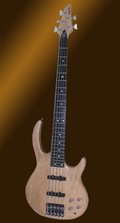 Jayzen Sound has released Carvin Bass, a virtual reproduction of a Carvin "Bunny Brunel" model Electric Bass.
Multiple samples of each note were recorded through a custom made pre-amp, then precision-edited and processed to create this design. It excels at creating authentic Jazz/Pop Bass lines and offers a wide selection of tones for composition and sound design.
Carvin Bass features
224 MB file size – GigaStudio (.gig) format, 44/16 mono samples.
Complete range of 5-string electric bass notes.
10 instrument patches using the Rhythm pick-up, and 10 more using the Lead.
Patches are set-up according to natural playing positions.
Separate patches for creating natural-sounding slides.
Full patch of chromatic string octave harmonics.
Bonus patch of interesting special effects and unusual string noises.
Carvin Bass is available as an instant download for $39.95 USD.
Visit Jayzen Sound for more information and audio demos.