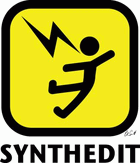 Jeff McClintock has released version 1.1850 of SynthEdit, a modular plug-in development environment for Windows.
Designed for Windows XP and Vista, with SynthEdit you can design your own Soft Synth from the ground up. Drag and drop modular components, connect them with virtual "patch cords".

Want to share your synth with others? SynthEdit's Save-as-VST function makes your own VST plugin synth or effect. Use your synth in major DAWs like Cubase, Sonar, or Fruityloops Studio.

Explore Virtual Analog synthesis, techniques like Frequency Modulation, Phase Distortion and Sampling. Create your own drum synth or effect unit.
Changes in SynthEdit v1.1
Improved multi-core stability.
Right click menus – your controls can now have their own customised right click menu.
MIDI learn – controls now have learn,unlearn, and manual set MIDI controllers.
New MIDI Controllers supported for automation like pitch-bend and note-on.
MIDI Tuning Standard support (for micro-tuning).
Tool tips.
Improved voice stealing – with configurable voice overlap or voice hold back, or soft steal modes.
New attractive resizable keyboard module.
Full set of conversion modules.
New polyphonic scope module.
New sample playback modules with choice of interpolation method.
MIDI SYSEX support. Controls can send arbitrary SYSEX messages (but can't receive yet).
Smoother animation due to faster screen update rate.
Many bug fixes including support for multiprocessor hosts.
And for module developers a new version of the SDK with more power to tweak synthedit than ever before.
SynthEdit is available to purchase for Windows PC, priced at $50 USD (excl. VAT). A demo version (non-expiring) can be downloaded from the SynthEdit website.
More information: SynthEdit