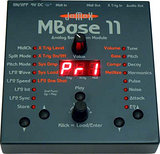 JoMoX has announced the MBase11, a new analog bass drum module.
The MBase11 can do only one thing, but it does it right: Phat kick drums!

And it does this even better than in the past.

The MBase11 is the logical follower of the MBase01 and offers even better performance, more versatility and an even phatter sound!

It generates analog bass drums, from extremely powerful to soft and covers the whole range from 909-style to 808-fashioned. And much more…the LFO has 8 different waveforms including true sine that can be used to create very different envelopes. The resulting sounds are not simply *kicks*…this turns out to be a bass drum *synthesizer*.
MBase11 features
110 presets (10 User RAM, 100 FLASH).
Fully analog sound engine with storeable parameters.
Analog envelopes.
LFO with 8 waveforms: Saw +/-, Sine +/-, Tri +/-, Rect +/-, modulates the pitch, midi syncroniseable.
LED display, 7-segment 3 digit.
Midi In/Midi Out.
1 data wheel, 1 potentiometer, 5 buttons, 16 LEDs for parameters and functions.
1 mono out 1/4″ RCA jack, ~0dBu output level.
External input: analog trigger, sensivity adjustable.
The MBase 11 will be available May 2009.
Visit the JoMoX website for more information and audio demos.