Juno Ju-X has released Hosting AU, a microDAW application for hosting AudioUnit plugins.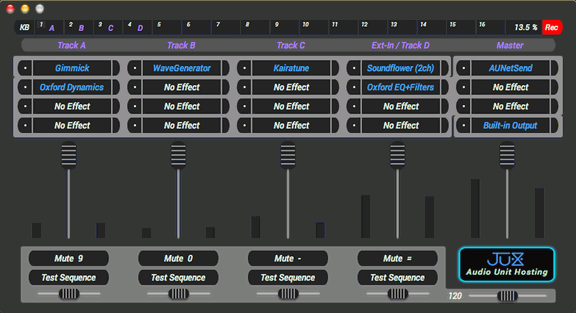 For the first serve, here I release Hosting AU microDAW. This is a micro-sized Digital Audio Workstation for OSX that hosts Audio Unit synth and effect plugins, comes with 4ch+1 mixer with ext-audio input, 24-bit recorder, Music-Typing kind of feature called "LazyKey".

For who has Sequera or 3rd party MIDI sequencer, you can make any kind of music that focuses on simplicity (for dancing or whatever!) You can think it like using a 4ch MTR.
Hosting AU is available to download as freeware for Mac OSX 10.6 Snow Leopard or later.
More information: Juno Ju-X / Hosting AU