Musopia and JustinGuitar have announced the launch of Justin Guitar Beginner Song Course by FourChords, a beginners' guitar learning app for iOS and Android.
The app brings together the best parts of FourChords Guitar Karaoke by Musopia, the mobile app development studio and the state-of-the-art Learning Path from Justin Sandercoe, the massively popular YouTube guitar teacher described by The Independent newspaper as 'one of the most influential guitar teachers in history'.
The app was soft launched last weekend on Google Play and received with an exceptionally positive reactions from users, the rating being brilliant 4.8 stars on the store.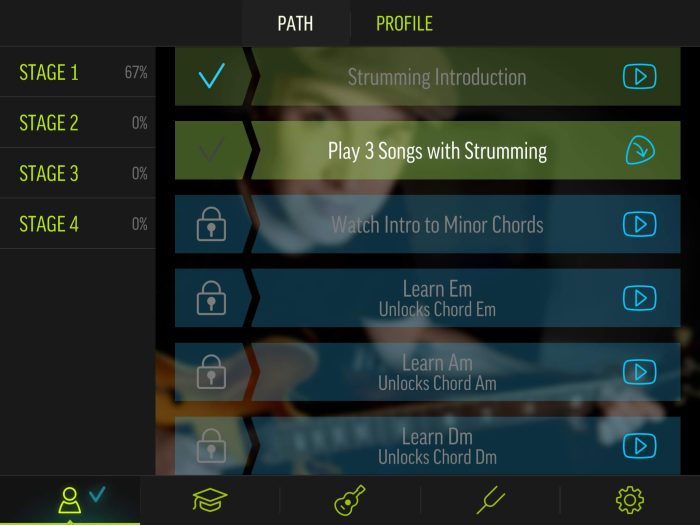 It seamlessly combines the great features of FourChords play-along song book with the Justin´s Learning Path method´s instructional videos, innovative exercises and an amazing collection of hit songs picked by Justin himself. Having honed his guitar teaching skills over more than twenty years Justin has received many accolades, including testimonials from Brian May and Tommy Emmanuel. The Justin Guitar Beginner Song Course distils the finest elements of his methodology into a fun and polished app experience.

'When learning the guitar, it's really important that it's fun, and I designed the Learning Path in this app so the student learns just a couple of chords and then puts them to use making music with a backing track – something that most beginners find inspiring and awesome fun! We can then keep them interested while learning more chords, strumming patterns and skills and the better they get, the more they enjoy it.' says Justin.

The songs in the Beginners Course collection, handpicked by Justin, are displayed in the play-along style pioneered by FourChords with adjustable backing tracks and lyrics. They support the players' learning experience and keep them engaged as they progress through the course, by the end of which, budding guitarists are able to play hundreds of awesome tunes like "Hey Joe" by Jimi Hendrix and "Wonderwall" by Oasis.

Topi Löppönen, Musopia's founder explains 'Musopia is working to create experiences that create a sense of accomplishment and help new players to learn to love guitar. The first moments of learning are tough sometimes, but by combining Justin´s knowledge on learning and our technological solutions, we created an interactive step-by-step course that is easy to follow and gets you playing real songs from the beginning.'
Justin Guitar Beginner Song Course by FourChords features
Complete Justin Guitar Beginners Course: Step-by-step guide to learning to play guitar: basic chords, chord changes, strumming patterns (instructional videos, chord changer exercises, strum player exercise).
Self-assessment system to track your improvement.
Song collection of over 200 hit songs hand-picked by Justin.
Karaoke style display with easy chords, adjustable backing tracks and lyrics.
Very accurate and easy to use tuner.
The Justin Guitar Beginner Song Course by FourChords is available for free on the iTunes App Store and Google Play.