K-Devices has announced the release of TTAP for iOS, an AUv3 delay effect inspired both by adventures with analog tape and by otherworldly textural effects only possible in the digital world.
Whether you're looking for bread-and-butter delay sounds, subtle enhancements, or evolving experimental echoes, TTAP fits what you need.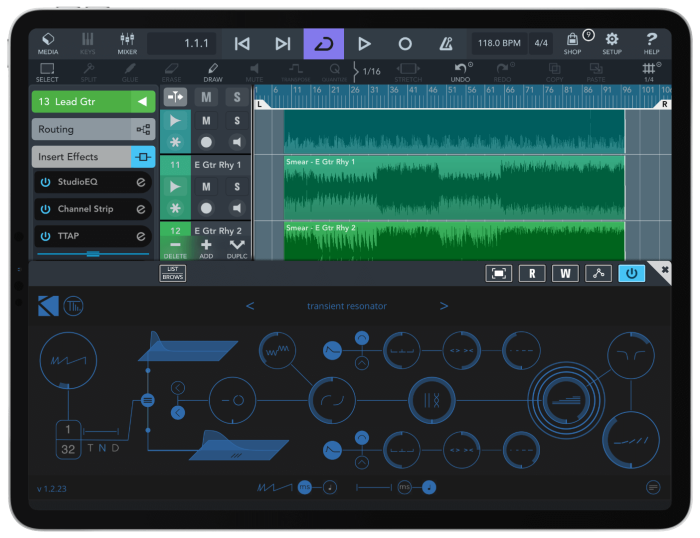 TTAP is a delay effect with a set of creative features to process the delayed signal: this passes thru two buffers, which can be independently processed, and further delayed. An highly shapable amplitude envelope is available for each buffer, and each buffer can be played in reverse mode.
The relationship between buffers is handled by parameters Gap, and Balance: Gap is an additional delay value for second buffer, and balance sets the amplitude for both buffers. This simple but powerful combination of two features lets user to obtain (delayed) accents that, if reiterated by Feedback, give a reverberation of patterns, that brings delay effect concept beyond the usual idea.
Beside Delay Time, the core parameter of TTAP is the time value called Section: buffers manipulation features refer to it (amplitude envelope length, second buffer max delay, time resolution for aleatory stereo spread and Repeat, and more). This allows these parameters to be changed simultaneously.
The Repeat parameter sets the chance to repeat the current buffer instead to overwrite with new incoming signal. This creates semi aleatory glitch results, up to a complete freeze effect (if Repeat reaches 100%). Bend parameters simulate a non linear playhead, resulting in exponential or logarithmic reading of the buffer.
TTAP structure lets user/musician easily achieve classic or unusual delay results as well.
TAPP for iOS 9.3 or higher (AUv3) is available for the intro price of 3.49 EUR / $2.99 USD until July 14th, 2020 (regular 6.99 EUR / $5.99 USD).
More information: K-Devices