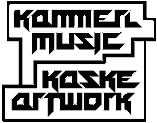 Kammerl Audio (quite possibly NSFW) has released Kammerl Kaske Plugin Pack, a comprehensive set of five soundmanipulating VST audio plug-ins, ready to be used with your favourite music production software like Steinberg's Cubase or Ableton's Live.
Kammerl Kaske Plugin Pack includes
The Slicer

– cuts all incoming audio signals into slices and then re-arrange them in a very musical way. Plenty of different rearrangement sequences can be selected to generate beat patterns and breaks just on the fly.

The Sratcher

– enables you to do digitally scratching even cooler than hand-made scratching with vinyl: you are always in sync and the speed and type of your virtual scratch movements are freely adjustable and easy reproducable.

The Pitcher

– by cutting-up and changing the pitches of all incoming audio signals you can create surprising effects, sounding like switched-off turntables, broken tape machines or shuffled grooves.

The Looper

– records incoming audio material and instantly makes a loop out of it according to the timing information given by your sequencer. By changing the start- and endpositions, the duration of your loop or even by modulating the loop size you can create amazing new rhythms and 'bouncing-ball-breaks' as easy as 1-2-3.

The Warm Distortion

– comparable to the distortion effect of analogue tube amplifiers.
This collection of plug-ins is a cooperation between Julius Kammerl (audio programming) and Klaus Kaske (artwork). Warning: If you have a problem with fantasy character nudity you may want to skip these…
All plugins are released under the GNU General Public License and are available freely for Windows and Mac.
The Mac version currently has a small bug where the plugin's settings are not always correctly stored when saving your project. This will be fixed shortly.
Visit Kammerl Audio to download the Kammerl Kaske Plugin Pack.