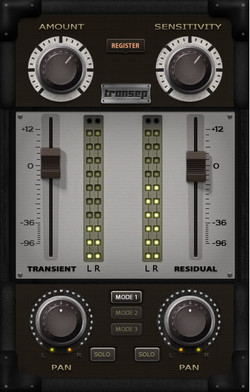 Khaelis Software has announced the release of TranSep, a powerful Transient Designer plug-in for Windows and Mac.
TranSep can add or soften attacks, add punch or remove "clicking" effects. It can also soften harsh sounds or add crunchiness to the sound.
TranSep features
Two faders + two knobs for complete control of the transients.
Isolate, accentuate or even smooth sound. Check the built-in presets for instant sound quality.
3 modes for 3 algorithms.
64-bit internal processing.
Simple serial registration: no internet needed, no USB key, the ease of the client comes first.
The plug-in is available for Windows and Mac (VST/AU), priced at $49 USD.
Visit Khaelis for more information.