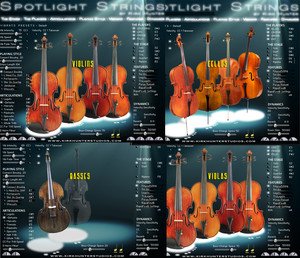 Kirk Hunter Studios has launched Spotlight Strings, a virtual solo string library for Native Instruments Kontakt.
This year Kirk Hunter Studios, a leading developer of high quality string, brass and orchestral sample libraries, is introducing its most advanced string sample library to date, Spotlight Strings, a solo strings library representing a breakthrough in realism and playability for string sample libraries.

Spotlight Strings is a SOLO STRING library comprised of 4 soloists per section and an optional "Ripieno" backup section. So it's 4 solo string libraries in 1, and THEN some!
Spotlight Strings features
4 solo violins.
4 solo violas.
4 solo cellos.
2 solo basses.
Ripieno (Italian for stuffing or padding – refers to the bulk of instrumental parts of a musical ensemble who do not play as soloists, especially in Baroque music. These are the players who would play in sections marked tutti, as opposed to soloist sections. It is most commonly used in reference to instrumental music).
5 GB content.
The library is available to purchase for $249 USD.
Kirk Hunter has also launched a Group Buy, offering up to 50% off every major Kirk Hunter Studios sample library.
Once you sign up, you can purchase now, get a free trial now, or at the end of the Group Buy, which ends Feb 1, 2014. If you purchase now, you will be given a refund of the difference between the price you paid and the Group Buy ending price. That way, you can enjoy the library(s) now.
More information: Kirk Hunter Studios