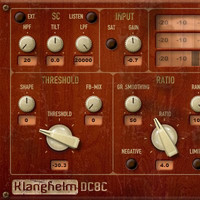 Klanghelm has updated its DC8C advanced compressor effect plug-in for Windows and Mac to version 1.2.
The main goal while designing DC8C was to get a very clean compressor action without unwanted and often almost unevitable artefacts/distortion. This way you can achieve almost invisible compression for your most demanding mastering sessions, when you want to avoid coloration. If you aim for colour you can choose between two saturation models.
Changes in DC8C v1.2
VST3 support (OSX/WIN 32 & 64bit).
External sidechaining in EASY mode.
Zero latency switch removed (DC8C is now always zero latency).
Fixed: MIX knob in easy mode is working now as expected.
Fixed: (OSX) flickering of the value displays, when moving a control.
The DC8C plug-in is still available for the introductory price of 20 EUR.