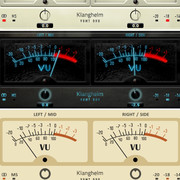 Klanghelm has updates its VUTM VU meter and trim plugin for Windows and Mac.
VUMT taken to the next level. Lots of improvements and new features. It's now a fully tweakable VU meter.
Changes in VUMT v1.5.7
A new settings panel to adjust rise/fallback times of the meter and a new unique overshoot parameter so you can replicate your favorite analog VU meter you are familiar with.
New smoother, even more accurate needle animation.
Additional PPM mode implemented with adjustable rise/fall times.
Improved clip LED (lights up yellow/orange when exceeding a predefined level – you headroom) and turns red when digital clipping is taking place.
Switchable numerical readout for peak and VU values.
Switchable hold needle which shows the current max VU value.
and more…
VUMT for Windows and Mac (VST/AU/Standalone) is available to purchase for 6.28 EUR.
More information: Klanghelm