Plugin Boutique has launched a sale on Klevgränd Produktion, offering 40% off selected plugins for a limited time only.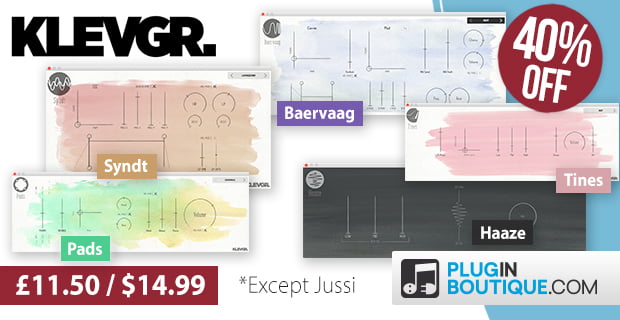 Save 40% off Klevgränd Produktion's sleek & intuitive collection of synths. (Excluding Jussi)
The sale includes:
Baervaag is a fairly simple FM synthesizer with one carrier and one modulator. The oscillator waveforms can be modified seamlessly between sine wave to pure square wave with PWM (pulse width modulation).
Haaze is a stereo tool that provides two different ways of making a mono (or a not-wide-enough-stereo) signal to a wider stereo signal.
Pads is a thriving and organic pad synthesizer. It consists of a wavetable synth with a noise/grain generator and a high cut filter.
Syndt is a high quality polyphonic synthesizer with a lot of possibilities. The oscillator waveform can be morphed between pure sine to pure square, and supports altering of pulse width.
Tines emulates an electric piano. With internal effects like a stereo tremolo, a multiband distortion panel and a subtle roomy reverb, Tines can sound like anything between a dreamy slick Rhodes to a nasty Wurlitzer.
The sale ends February 5th, 2018.
More information: Plugin Boutique