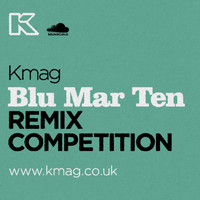 Kmag has announced the Blu Mar Ten Remix Competition, a chance to win a release on the Love is the Devil remix project.
Blu Mar Ten formed in the 90s in the infancy of Drum & Bass, and have since produced a plethora of deep, atmospheric creations. Not surprisingly, they have been in high demand as remix artists for the likes of Erykah Badu, Alicia Keys, Annie Lennox, Terry Lee Brown and Joey Negro.

Kmag, Blu Mar Ten, Soundcloud, Surus, Loopmasters and Finyltweek have joined forces to give you the opportunity to remix 'All Or Nothing' from their latest album 'Love is the Devil', which made it to number 4 in Kmag's 10 Best Drum & Bass Album 2011. The winning entry will receive a release alongside remixes from dBridge, Marcus Intalex, BCee, Joe Syntax, Unquote and Blu Mar Ten, as part of the Love is the Devil remix project.

"We want people to take the idea and make it their own," says Chris from Blu Mar Ten. "Really stretch the track and do something different to it. We want to hear some character and invention."

The winner will also win a SoundCloud pro account, 2GB of free Loopmasters sample packs and £100 to spend in the Surus music platform. One runner-up and the group choice winner (the entry in the group that is favorited the most) will win a SoundCloud Lite account, a free Loopmasters sample pack and £50 to spend in the Surus music platform.
Deadline for entries is midnight GMT on Sunday February 26th 2012.