Audio Damage has introduced Kombinat Tri, a major update to the Kombinat/Kombinat Dva line of multi-band distortion and audio toolbox plugins.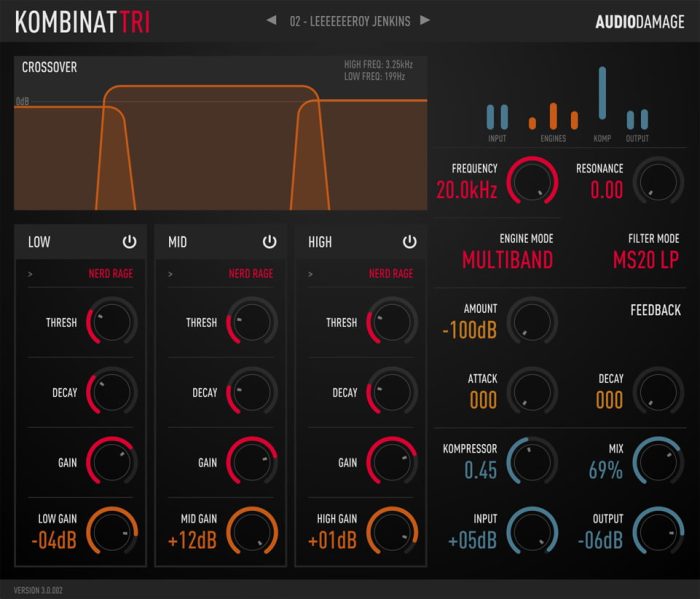 From mild tone-shaping or adding a bit of grit to full-on total waveform destruction, Kombinat Tri is a complete toolbox of sonic warfare, and a complete top-to-bottom rebuild of our popular Kombinat series.

With 13 different options in each of the three distortion engines (plus pass-through), Kombinat Tri is capable of sophisticated and unique sounds. Want to add a ring mod to the low end, a mild tube clip to the mids, and a bit-reduction algorithm to the high end? No problem. Want to run your signal through three sine-warps or fuzz algorithms in series? This is your box.

Kombinat's signal structure allows for a fairly broad palette of sounds, as each segment of the overall effect is a versatile tool in its own right. On the front end is a full "DJ-style" band-killer EQ; this leads to the three distortion engines, which may be used in multi-band mode for subtle surgery, or in series mode for complete signal destruction. The engines lead to a multi-mode filter with 12 different topologies, and then on to a compressor which we have configured for one-control operation.

Taken as a whole, Kombinat is a tweaker's paradise, yet designed so that it is easy to just grab one of the presets and touch it up a bit to suit the source material.
Kombinat Tri is available for Windows and Mac (VST/AU/AAX), priced at $49 USD. Owners of Kombinat or Kombinat Dva can upgrade for $10 USD.
More information: Audio Damage / Kombinat Tri