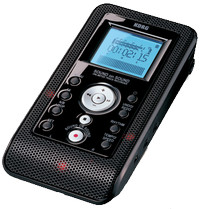 Korg has introduced the Sound on Sound (SOS), a battery-powered track recorder, which enables musicians to capture and develop musical ideas as they happen, wherever they are.
Unlike other portable recorders (even multi-track), the SOS allows for an infinite number of overdubs or alternate takes to be recorded. Each track, take or overdub is recorded as an individual CD-quality 16-bit / 44.1 kHz WAV file, and saved directly to a microSD or microSDHC card.

Accurate BWF (Broadcast Wave Format) timing information is embedded in each track, meaning all tracks will automatically line up when imported into a computer-based DAW system for further editing, mixdown and final playback.

The SOS can record up to 200 songs in the traditional linear manner, or be set to loop a specific section. Memory consumption is roughly 100 recorded minutes per GB (gigabyte).
Sound on Sound features
Pocket-sized, portable, and battery powered, the SOUND on SOUND multitrack recorder provides on-board rhythms, effects, and an infinite number of overdubs for truly creative recordings.
With the built-in speaker and an internal high-quality stereo mic, you can capture and review your recordings instantly, without the need for any additional equipment.
Advanced recording features include unlimited undo/redo, loop recording, and Sound Stretch – adjust the playback speed without changing the pitch.
100 on-board effects – powered by Korg's proprietary REMS technology – to enhance your recordings using a wide range of instruments.
Record along to 50 preset rhythm patterns, covering a broad variety of styles.
Record and save up to 200 songs in WAV format.
High-performance guitar, bass, and chromatic tuners are built in.
Records up to ten hours on a pair of AA batteries.
Wedge-shaped design is easy to use as a hand-held recorder or on a desktop.
KORG AUDIO UTILITY software provides format conversion and audio CD creation. Downloadable free from Korg.com.
The Sound on Sound (SOS) recorder will be available April 2010 with an MSRP of $400 USD.
More information: Korg