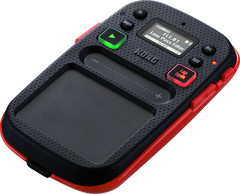 Korg has introduced the mini KAOSS PAD 2, an effect processor and media player.
Korg's Kaoss Pad Series products have become the must-have effect units on in every musician's rig – especially on the DJ scene. In addition to inheriting powerful effect programs from the Kaoss Pad KP3 and the Kaoss Pad Quad, the Mini Kaoss Pad 2 provides an MP3 player with adjustable pitch, making it ideal for creating DJ-Style performances. Use it as a DJ playback device, or use it to process the entire output of your DJ rig with Korg's famous KAOSS effects. Instrumentalists, guitarists, sound designers and even just music fans will enjoy using the Mini Kaoss Pad 2. Offering a built-in mic, onboard speaker, and convenient battery power, the Mini KAOSS Pad 2 is completely self-contained and ready wherever you go!
mini KAOSS PAD 2 features
Control effects in real time using the intuitive touchpad interface.
MP3 player with microSD card slot for data storage/exchange; Perform on the Mini Kaoss Pad 2 without needing any other equipment!
100 effect programs, ideal for DJ mixes or sound design.
3 Program Memories provide instant recall of favorite effects.
Powerful Looper, Vinyl Break, and Ducking Comp effects borrowed from the Kaoss Pad Quad.
Internal mic plus external audio inputs.
Support for pitch change and cue point settings allows serious DJ play..
Record your performances and save then to using the microSD card slot.
6 preset audio demo loops.
The mini KAOSS PAD 2 will be available May 2012, priced May MSRP $220 USD.
More information: Korg / mini KAOSS PAD 2