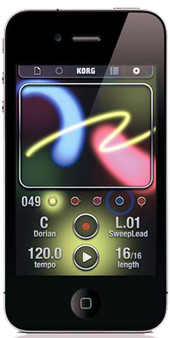 Korg has released iKaossilator, a dynamic synthesizer for iPhone.
Korg has revolutionized the musical instrument world with their dynamic line of Kaoss products, using an intuitive X-Y pad to provide expressive musical control. The palm-sized KAOSSILATOR synthesizer placed modern music-making in the hands of thousands of musicians and non-musicians alike. Now that same excitement has been captured in the iKaossilator app for iPhone!
iKaossilator for iPhone features
Play sounds by simply stroking, tapping, or rubbing the screen with your finger.
Bold Visual Effects move along with your performance and add excitement.
150 diverse built-in sounds cover any style of dance music.
Scale/Key settings allow anyone to perform with musical precision.
Easily create tracks with the loop sequencer using up to five parts.
Control loops in real time for DJ-Style live performances.
WIST capability allows wireless sync-start with other apps such as the iELECTRIBE.
iKaossilator is available to purchase for the introductory price of $9.99 through November 30, 2011 (50% off regular price).
More information: Korg / iKaossilator