Korg has announced the release of iM1, a digital synthesizer workstation for iPad.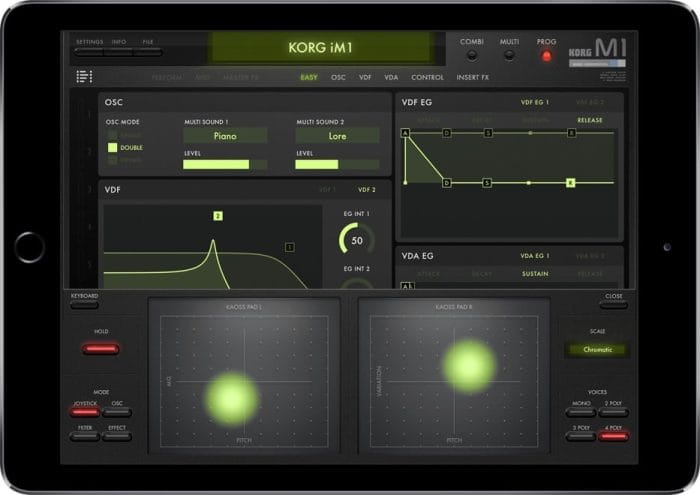 Since it went on sale in 1988 the legendary M1 music workstation rapidly achieved record-breaking sales, becoming a mainstay of the music scene from the late 1980s and beyond. The appearance of the M1 helped musicians deliver professional-quality songs using just a single piece of equipment.

The design goal of the M1 was to deliver sound that would satisfy professional needs in two areas: performance and music production. This goal became the new direction for the PCM synthesizers and desktop music sound modules that subsequently appeared, and has been carried on to the present day with KORG's flagship model the KRONOS.

High-capacity sampling and the increase in computer speed have enormously improved overall sound quality from a computer, but generating sound that delivers a real sense of presence demands technology and ideas beyond those that merely improve sound quality. The common element of electronic instruments that have left their name in history is that they had a unique sound that was difficult if not impossible to replicate. Sounds such as the "M1 Piano" and "M1 Organ" are instantly recognizable and have appeared on countless hit records over many years, and yet these are sounds that could only be produced by the M1. And that's what you can now have on your iPad!
iM1 features
Advanced Integrated System with 8 parts.
3,300 sounds (incl. all expansion sound cards) and 34 effect types.
MIDI program change, Virtual MIDI and Bluetooth MIDI.
Virtual keyboard and performance via external MIDI keyboard.
KAOSSILATOR-style "Touch Scale".
Gadget-style "Smart Keyboard".
Usable as a Darwin gadget within the Gadget app (Programs only).
Compatible with KORG Legacy Collection M1 format (.m1all file type).
Inter-App Audio, Audiobus 2 support, Core MIDI.
iM1 for iPad is available for purchase for the introductory price of $19.99 until June 30th, 2015 (regular $29.99 USD). The M1 Cards Pack and T1 Cards Pack are available as in-app purchases of $4.99 USD each.